Welding and assembly with military precision
Military manufacturer Schutt Industries increases safety, ergonomics and productivity after deploying ALM positioners.
You don't become America's leading manufacturer of industrial and military-grade cargo handling equipment without the highest dedication to quality possible. To deliver that quality, Schutt Industries specializes in producing some of the toughest products on the planet, all thanks to meticulous welding and assembly processes.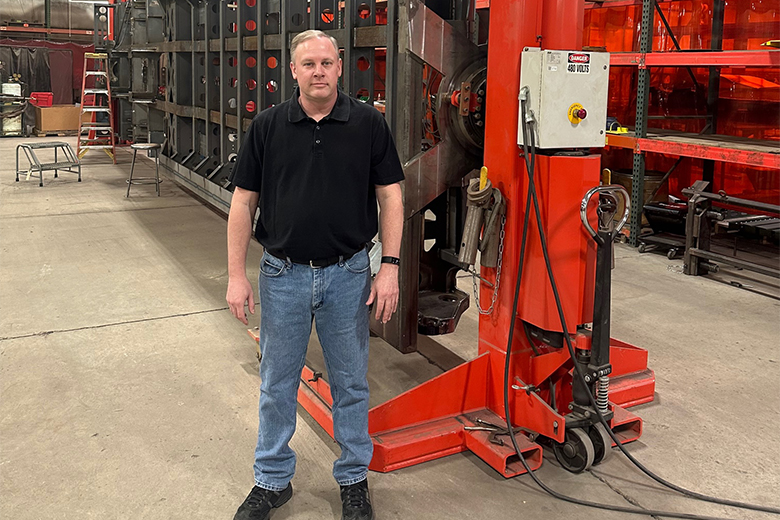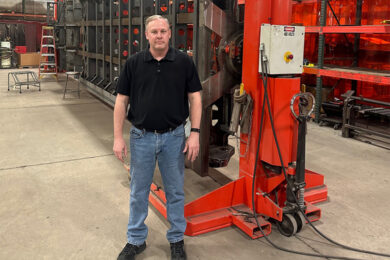 With more than 80 employees based in Clintonville, Wisconsin, Schutt Industries designs and manufactures small utility, large utility and semi-trailers designed to haul 40-tons of payload. With a wide range of products and a need to increase product throughput wherever possible, they began strategizing ways to make their welding and assembly processes more efficient and safer.
After partnering with ALM Positioners, Schutt Industries began utilizing two headstock and tailstock positioners to manipulate and access their product easily and efficiently. What was once done with overhead cranes and ladders was now simply done with the push of a button.
"Prior to purchasing an ALM positioner, for some of our smaller set ups we had homemade spinning devices," said Mark Schutt, production manager at Schutt Industries. "It was a lot of manipulation using overhead cranes and things of that nature. With the positioner, we've eliminated handling time and the use of overhead cranes. That makes our process a lot safer and more efficient."
ALM Positioners specializes in welding and assembly positioners to increase manufacturing productivity, safety and ergonomics. Schutt said the benefits were realized quickly.
"When you eliminate handling from start to finish, you can knock days off the process," Schutt said. "Now we can rotate our product a full 360 degrees in literally a minute or two, which means we save all the downtime and get the piece in the perfect position to work on comfortably."
Keeping our country and employees safe
With a full line of products designed for military use, Schutt Industries' dedication to safety is unmatched when it comes to both employees and customers.
"Safety was one of our very first considerations when we began looking at positioners," Schutt said. "We were flipping very heavy trailer frames, and we needed to keep the safety of our employees as our first priority."
Schutt's team began looking into positioner solutions and even considered developing their own design in-house. Ultimately, ALM Positioners stood out as the right solution.
"There were a lot of fixed positioner options out in the market," Schutt said. "The portability of ALM's units were a huge benefit for us. We have many different product lines, and the length can range significantly. We knew whether were running 20 feet to 40 feet, we could accommodate different products with ease. Having the elevation and full 360 rotation was also a large benefit."
While safety was a huge benefit, so was comfort and ergonomics. The Schutt Industries team found they were less fatigued while using the ALM positioner.
"We'll install all the components of the trailer and rotate it to give the workers good access to some of the tight areas," Schutt said. "When they don't have to stress or contort their bodies in unusual positions, that makes a big difference for them."
Manufacturing with military precision
Meeting high standards means attention to detail on every step of the way. Schutt found that with the ALM positioner, ensuring quality and reviewing every checkpoint was made easier.
"There are a lot of quality checkpoints throughout our process, especially on our bigger trailers," Schutt said. "It's not just specifically assembly. We have similar quality checkpoints for welding, too. With the positioner, it's easier to assemble and weld with quality to begin with since our employees are able to reach tight spots comfortably. Then, it's easier for inspectors to doublecheck that work."
Another big bonus they recognized was the added grounding feature of the ALM positioner.
"During welding, you have to ground to the part to be able to weld," Schutt said. "ALM has these ground bars integrated into the headstocks and tailstocks, which are super-efficient. Normally, the welder has a large alligator clamp that you'd have to attach. With the ALM positioner, it's built in."
Inspectors review everything from specific torquing of hardware to ensuring measurements and certain dimensions are spot-on. They also look at things like brake lines and air lines to ensure quality.
"Being able to simply rotate our largest products has been a huge boost in being able to take a look at everything and ensure quality," Schutt said.
Building on momentum
Once the first ALM positioner was deployed, Schutt Industries saw so many benefits that they quickly ordered a second unit and are now planning on installing a third custom unit down the road.
"We got very good reactions from the staff with the new positioners," said Schutt. "From an ergonomics standpoint, it makes their job that much easier. Moving forward, we're certainly looking at long-term investments with ALM to get more spinners on our floor."
The only downside they've seen? A little bit of workplace jealousy.
"It's a big difference from spinning and trying to flip large trailers with overhead cranes," Schutt said. "The positioner makes everyone on the floor want to use it."
Ready for a positioner to transform your assembly process? We're ready to help.
Give our team a call at (309) 822-2759 or fill out our form.