Large-scale positioners: A solution for productivity, quality and safety during a skilled labor shortage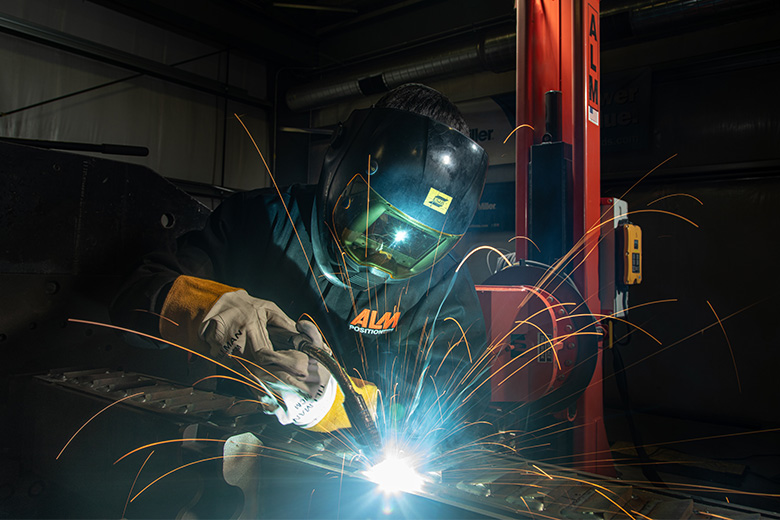 Across North America, there are hundreds of thousands of skilled labor jobs open and manufacturers are scrambling to fill them. Although the shortage of skilled tradesmen is nothing new, the pandemic coupled with U.S. job growth soaring past expectations has accelerated the issue.
According to the U.S. Bureau of Labor Statistics, 11.5 million job openings exist as of March 2022. Nearly 900 thousand openings exist in the Manufacturing sector alone. The manufacturing skills gap in the U.S. could result in 2.1 million unfilled jobs by 2030, according to a study by Deloitte and the Manufacturing Institute.
In honor of this month's National Skilled Trades Day, the team at ALM Positioners recognizes and celebrates the importance of those who work in the trades. Their hard work and dedication do not go unnoticed.
Since its inception, ALM Positioners – the industry-leading provider of large-scale welding, fabrication and assembly positioners – has been committed to creating solutions for America's blue-collar workers. And now that finding skilled laborers is more difficult than ever, ALM is highlighting three ways positioners can help address the nation-wide skilled labor shortage.
1. Efficient manpower. Maximum safety and arc time.
Hooking large, heavy parts and fixtures to chains, forklifts and cranes can be dangerous and time consuming. ALM's positioners allow operators to safely speed up the handling portion of rotating and lifting a part and orienting that part for the best access – requiring less manpower, saving labor hours and increasing the welder's arc time.
"We're consistently hearing our customers say, 'We can't find welders,'" said Pat Pollock, ALM Positioners' CEO. "When you purchase a positioner, you're immediately reducing the material-handling aspect. The operator can go over to the control panel, note how the positioner needs to rotate and it's done for them. No more chains, straps or cranes."
2. Increased productivity. Throughput increased by nearly half.
By pinpointing inefficiencies associated with welding, assembly and labor, ALM Positioners has built a range of products that streamline manufacturing and assembly processes – delivering higher efficiency, improved productivity and reduction in safety issues.
"After loading the part onto the positioner one time, our customers are able to spend their time working on the product," Pollock said. "They're not on a crane. They're not wrestling over parts. They're welding with higher quality and better productivity."
ALM's customers see increased throughput by as much as 40% and a return on investment in less than 12 months after one positioner is put into production.
Productivity isn't only enhanced with experienced welders. By utilizing a positioner, inexperienced or newer employees can learn the job processes quicker.
Even better, more efficient employees result in significant improvement without additional costs – all while working safer. Using pre-taught, one-touch automated positioning, ALM Positioners dramatically increase productivity and reduce nonvalue added time.
3. Improved ergonomics. Happier and healthier employees.
Part of the reason employee retention is challenging in some skilled labor careers is the physical toll it can take on the body. Improved ergonomics can play a big role in attracting and retaining skilled employees.
With the help of a positioner, employees will no longer need to crawl under and over the part, using ladders and scaffolding, kneeling, lying on the floor or rolling on creepers. When employees have the ability to elevate and rotate the part with the help of a positioner, they can keep the part in optimum processing position while working in the position most comfortable to them.
The U.S. Census Bureau estimates that nearly one-fourth of the manufacturing workforce is 55 or older. In fact, the average age of a U.S. welder is 56. As highly skilled welders continue to age, ergonomic improvements provided by positioners improve day-to-day operations – increasing employee longevity as the body is no longer subjected to the wear and tear of part manipulation.
"When welders aren't bending over or wrestling with heavy, dangerous parts, they can go home after work and still enjoy time with their family," Pollock said. "Positioners take the part manipulation effort off the welder, so they can do what's critical…the welding."
Struggling with skilled labor shortage in your workplace? We'd love to hear from you. Give our team a call at 309-787-6200 or fill out our form.