How a positioner improves productivity, from a process engineer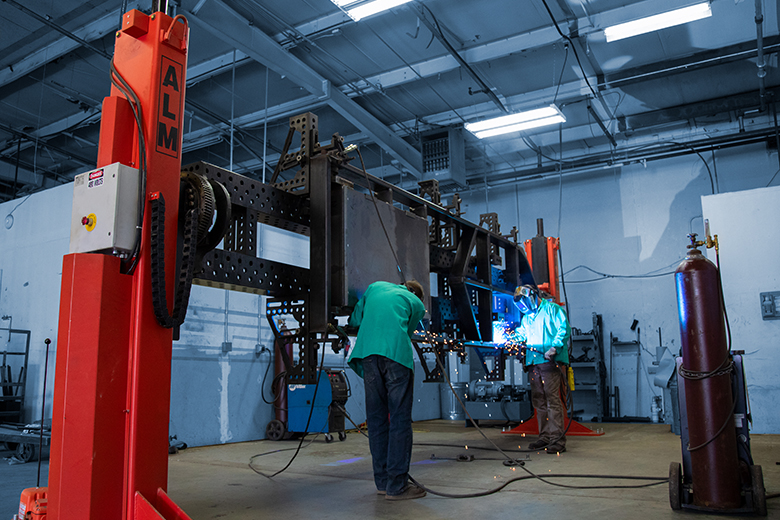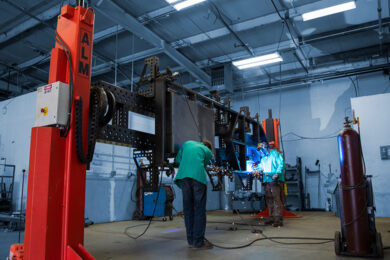 How much can a skilled laborer accomplish in just one hour? With the right tools and processes in place, you'd be amazed. As a process engineer, I've seen countless welding or assembly floors transformed with the right equipment – leading to faster, better and safer workflows.
When we think about improving processes during welding or assembly jobs of any kind, we look at each step and identify where workflow can be streamlined or enhanced. Every single minute counts towards improving product throughput and efficiency, which ultimately improves your bottom line.
Here are four ways I've seen a positioner improve workflow efficiency and safety for companies across the country.
Eliminating workflow pain points
Take a hard look at every step of your manufacturing or assembly process. Do you have workers hoisting large equipment with cranes? Climbing on ladders? Laying on their backs or sides to reach a weld? Using a fork truck to lift or turn a work piece? These are all areas that could be improved for the sake of worker safety.
Recently, I worked with a firetruck manufacturer. Without a positioner, they relied on a cumbersome process to hoist large work pieces and manipulate them for assembly and welding. Once they installed a positioner, they were able to simply move the work piece to the optimal height with the touch of a button. The days of uncomfortably standing on a ladder were over for their workers, and their product throughput saw huge improvements. Not to mention, their skilled laborers were a lot less worn out at the end of the week.
When it comes to welding, being uncomfortable and having to stretch to reach welds leads to decreased weld quality and worker fatigue. Utilizing a positioner for your assembly applications allows you to lift, rotate and hold any assembly so that it can be accessed and handled safely and quickly. The result is a streamlined assembly process that improves employee well-being and comfort – and offers up to a 40+% increase in productivity.
Paving the way for automation
It's no secret that utilizing intelligent equipment is the future of manufacturing, but it can be a daunting task to begin making the shift. Going from rudimentary tools to operating a million-dollar robot cell can be out of reach for many companies. By focusing on smaller steps such as part positioning, customers can get an easy win by increasing efficiency, safety and quality.
With a positioner, you can make it as complex or simple as you'd like. You always have the option to add a cobot or robot down the road. Installation of a positioner can take as little as four to eight hours, and because of its intuitive design, your skilled laborers can begin utilizing it that same day.
The fact of the matter is this: not many things on the factory floor can make a workplace faster, safer and better than a positioner.
The right positioner for you
A big part of my job as a process engineer is finding the right positioner for your specific needs. We start with looking at weight. How heavy is the equipment you're lifting? Then, we look at the width of the piece you're manipulating and if your workflow requires pieces of varying lengths. From there, we can recommend the right positioner for the job and customize it with tailored tooling to create the best solution possible.
Once we know which positioner would work best, we create a simulation that places that positioner in your environment virtually and provides a tangible example of how the positioner will improve your workflow.
Seeing is believing: Delivering ROI
My very favorite reaction to hear from the skilled laborers experiencing a positioner on the floor is, "where has this been all my life?"
When it comes to the functionality of a positioner, seeing is really believing. Once deployed, a positioner is generally paid off in six to twelve months due to enhanced product throughput of 40% or more. It delivers performance you rarely see in capital equipment, and it makes workers more comfortable and able to produce higher-quality products. It's a total win-win.
Ready for a positioner to transform your assembly process? We're ready to help.
Give our team a call at (309) 822-2759 or fill out our form.