Heavy Duty Container Manufacturer Gains 40 Percent in Product Throughput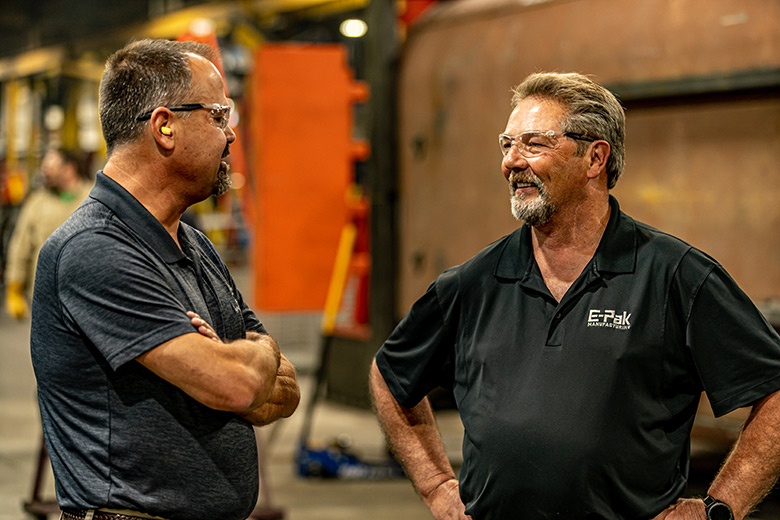 E-Pak Manufacturing maximizes productivity of gondola trailers after deploying a 55,000 lb. ALM positioner.
Durable metal containers and trailers of all shapes and sizes are at the heart of keeping our economy moving. From transportation to environmental or waste uses, specialized containers are a key part of so many industries. One of the leaders behind creating those containers is E-Pak Manufacturing, a leader in high-quality, customizable steel roll-off containers, trailers and more.
With over 100 employees, E-Pak, based in Wooster, Ohio delivers heavy-duty containers that will stand the test of time. Their team of engineers and welders are known to produce the most durable products possible by leading with quality while never cutting corners. But the production of these ultra-tough containers had its challenges.
Accessing every weld with attention to detail to reach their standards was a cumbersome process, requiring constant adjustment of ladders and cranes, leaving welders fatigued and creating safety concerns. That was until they partnered with ALM Positioners to utilize a headstock and tailstock positioner.
ALM Positioners specializes in welding and assembly positioners to increase manufacturing productivity, safety and ergonomics. By teaming up with tooling partner Holbert Engineering, they created a custom solution built to deliver greater uptime and reliability, which was exactly what E-Pak was seeking.
"The positioner has improved everything across the board for us," said Randy Lukesh, director of operations at E-Pak. "The positioner brings the weld to you. Our team is nowhere near as fatigued at the end of the day because the positioner makes it so much easier to weld."
E-Pak is utilizing the 55K elevating headstock and tailstock with custom tooling to facilitate the assembly and welding of their impressive 53-foot trailer bodies. Not only have they seen an impact on reaching tricky welds, but it has also increased the safety of their operation.
"The safety of our employees has greatly improved," Lukesh said. "We're always trying to eliminate safety issues on our plant floor, and the positioner has been a huge part of doing that. Nobody has to use a ladder anymore and there's a lot less climbing. It's been an overwhelmingly positive experience."
Rotate thousands of pounds with the push of a button: "like a rotisserie on a BBQ"
Before Lukesh was introduced to ALM Positioners, he had never seen the kind of large-scale positioner that would be needed to manufacture large trailer bodies. Once he saw the possibility, he knew it would be a great opportunity.
"I first saw an ALM positioner being used to rotate a yacht, and that's when the excitement grew," Lukesh said. "I had seen positioners handle much, much smaller things but being able to handle large trailer bodies like we were working on was an eye opener."
Seeing a positioner in person, seamlessly handling and rotating thousands of pounds with precision is an impressive sight and one that Lukesh and his crew were eager to use themselves.
"It rotates the trailer like a rotisserie on a BBQ," Lukesh said. "It allows for us to have a lot less walking, a lot less climbing around and a lot happier of a team member at the end of the day. That's huge for us."
After deploying the ALM positioner, Lukesh and his staff saw an immediate improvement in productivity, increasing product throughput by about 40 percent. Because of the success, they're looking into other ways they could utilize a positioner to manufacture different products.
"Right out of the chute, we gained so much productivity," Lukesh said. "Now we see so much possibility and flexibility to use a positioner in other areas of our business."
VAR partnership leads to a 40 percent throughput increase
A big part of the flexibility and throughput increase was a result of the collaboration that ALM Positioners and tooling partner Holbert Engineering Company as well as E-Pak provided. The end result was a customization that allowed for a robust turnkey solution that was quickly and easily installed.
"After my first meeting with Randy, we knew that we needed a turn-key solution and brought in our tooling partner, Holbert Engineering, out of South Bend, IN," said Kelly Sailor, Regional Sales Manager at ALM Positioners.  "They do an extraordinary job designing tooling for high mix-low volume customers making it so that different trailer bodies could be used with minimal changeover time."
Once the system was installed, it was up and running the very next day. With it came a big increase in safety and productivity. Before, changeovers required Lukesh's team to use overhead cranes and a forklift to move the body of the trailer, which could damage it and was very time consuming. With the positioner, they simply tighten clamps and begin welding.
"Working with Holbert Engineering is an example of blending engineering expertise to create purpose-built motion control systems," Sailor said. "It results in superior performance from an all-in-one fixture that's built with the welder in mind. It also paves the way for re-deployable capital with the opportunity for full automation in the future."
Positioner envy
Lukesh has found that the positioner on the floor has gained interest among his staff, and maybe a little bit of competition.
"Ever since we brought in the positioner, our team has been excited to use it," Lukesh said. "I would even say there is a little bit of jealousy on the floor from our staff who isn't using it, yet."
Not only has it reenergized the team, but it also makes it much easier to train new welders which is critical while facing staffing challenges and a shortage of skilled labor.
"There's an aging workforce and a shortage of welders. Making the job more comfortable so that welders don't have to get up and down off their knees all the time anymore while using the positioner, that's a bonus," Lukesh said. "With the positioner, we get a much better weld faster from a less skilled welder."
As far as the future, Lukesh wants to move forward with plans of adding yet another positioner to their floor, but he also doesn't want to reveal their secrets to success.
"Between growth, safety and morale, the positioner has been a win across the board," Lukesh said. "I highly recommend it, unless I'm talking to a competitor!"