Delivering the "wow" factor and increased productivity
C.R. Onsrud sees gains in throughput and stays cutting edge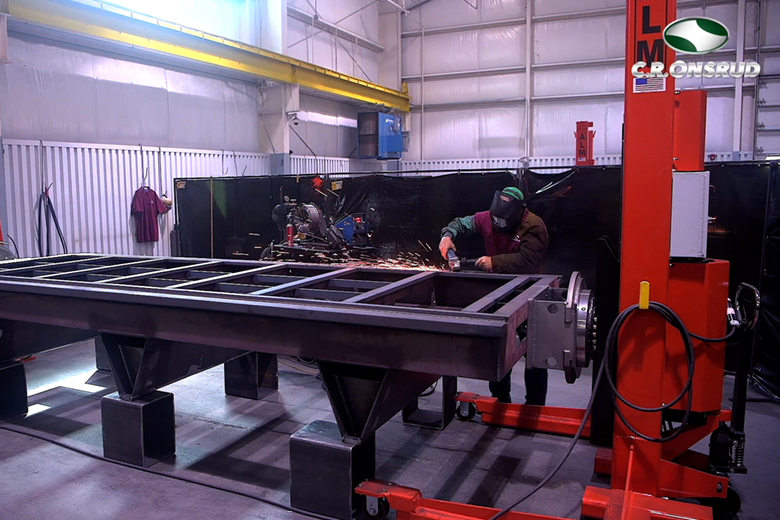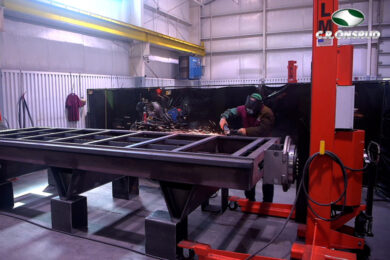 Clean. Innovative. Efficient.
Those might not be the top three words that come to mind when you think of a fabrication shop. But at C.R. Onsrud, it's the reality. The five generation manufacturing company specializing in CNC machinery has a history of innovation. They're continuing that tradition with their world-class fabrication facility based out of Troutman, North Carolina.
"When you walk into our shop, we like to call our floor our 'wow' factor," said Jeff Onsrud, director of business development. "As a CNC machining center and routing manufacturer, our main goal is to help clients cut any slab of material into any shape and deliver precision and quality every time."
C.R. Onsrud delivers in-house design and engineering solutions across a variety of industries – from aerospace to woodworking, plastics and composites. With their high standards of quality, they turned to ALM Positioners to help make their state-of-the art fabrication shop even more productive and safe.
"Once we came across the positioners, we could see the immediate benefit that they were going to have," Onsrud said. "We realized the degree to which we were able to save time and increase productivity while making our process safer."
Best people working with the best tools
When it comes to manufacturing, having experienced skilled laborers is a top priority for an organization's success; C.R. Onsrud doesn't take that lightly. That's why they invested in making their facility cutting edge (no pun intended) with a belief that the best equipment will create the best product. Their buildings are equipped with everything from air scrubbers to innovative technology like the ALM positioners.
"We take a lot of pride in our facilities and hiring the best people," said Eric McAllister, fabrication manager. "When people walk into our facilities, they're not expecting to see what they see. We give our team the best tools to succeed, which is why we went with the positioners from ALM."
The company now utilizes four positioners total within their shop. They opted for a fixed headstock, mobile tailstock outfit to ensure flexibility. This allows them to work on pieces as short as three feet and as long as 40 feet.
"When we're welding, what we look for is uniformity," McAllister said. "Quality welds lead to a quality product which is key for us."
Safety bringing big productivity benefits
The fundamental reason C.R. Onsrud was seeking a positioner solution was to increase safety, comfort and ergonomics for their workers. They quickly realized the positioners delivered much more than just safety.
"Our original need was to find a safer and faster way of repositioning parts so that we could weld from different angles rather than using cranes and chains," Onsrud said. "Once we did that, we saw that it increased our productivity, and the quality of our parts improved dramatically."
After deploying the ALM positioners, the solution was well received by the staff on the floor.
"The biggest thing for us has been the safety value," McAllister said. "Our staff feels a lot more comfortable using this system as opposed to what we were using in the past. They can stand, they can raise it above their heads, they can angle it 360 degrees to where it needs to be to be comfortable to weld. And when they're comfortable, they're able to make a stronger, more uniform weld. That's huge for us."
Higher quality in half the time
The positioners have performed as expected, with only one surprise: the amount of time it saved in their production process.
"Honestly, I was very surprised by the value the positioners did add to the company," McAllister said. "We have actually had to change our methods around because of how much time we've saved. We used to weld a particular item in eight hours, now the guys can do it in four. That's huge for us because we can get more products out the door."
The CNC machines at C.R. Onsrud are the very first step in the manufacturing industry for producing so many products we all use in our everyday lives. It's critical that these first manufacturing steps are done right so that the quality continues all the way down the manufacturing line.
"The next in line in our process is our machine shop," McAllister said. "We're saving money in our fabrication shop and then passing those savings onto our machine shop because we're working so efficiently. That ultimately means we're creating a better product for our customers, which is always our goal."
When it comes to the productivity and quality of their products, it ultimately comes down to a matter of pride.
"We take a lot of pride in our company and our products," McAllister said. "That's just who we are."
Ready for a positioner to transform your production process? We're ready to help. Give our team a call at (309) 787-6200 or fill out our form.